AJ & Nancy Pretorius ( Richards Bay - KZN )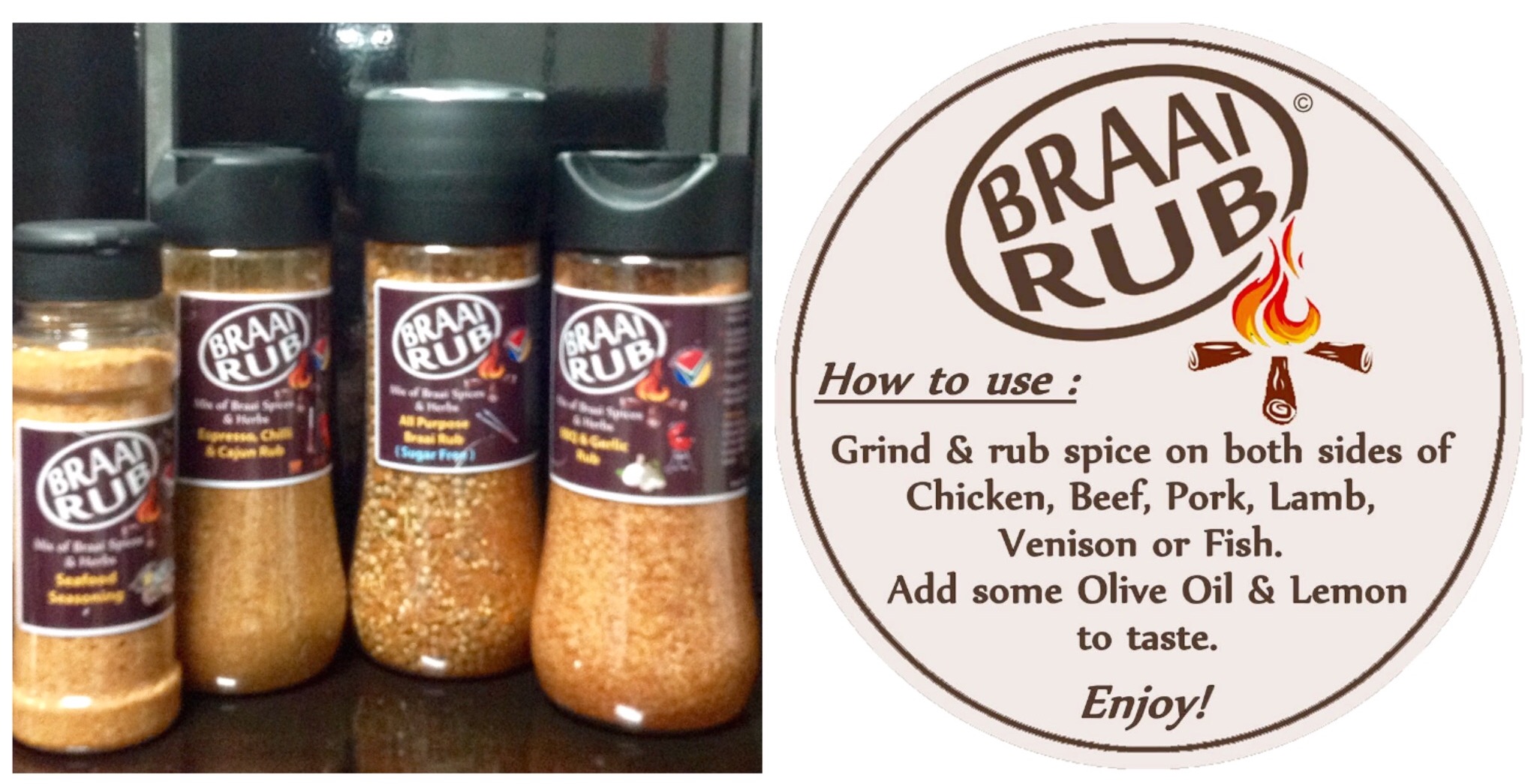 Hugo's Braai Rub is well packaged and looks very attractive. I was very Pleased with the service I received from Hugo and his team.
Well packed, Labels look Great and the bottles are good quality. Spices are very tasty.
AJ | 0828749218 | adrianpr@kwn.co.za
Nancy | 0824245476 | nancy.katy@gmail.com
Loraina van Heerden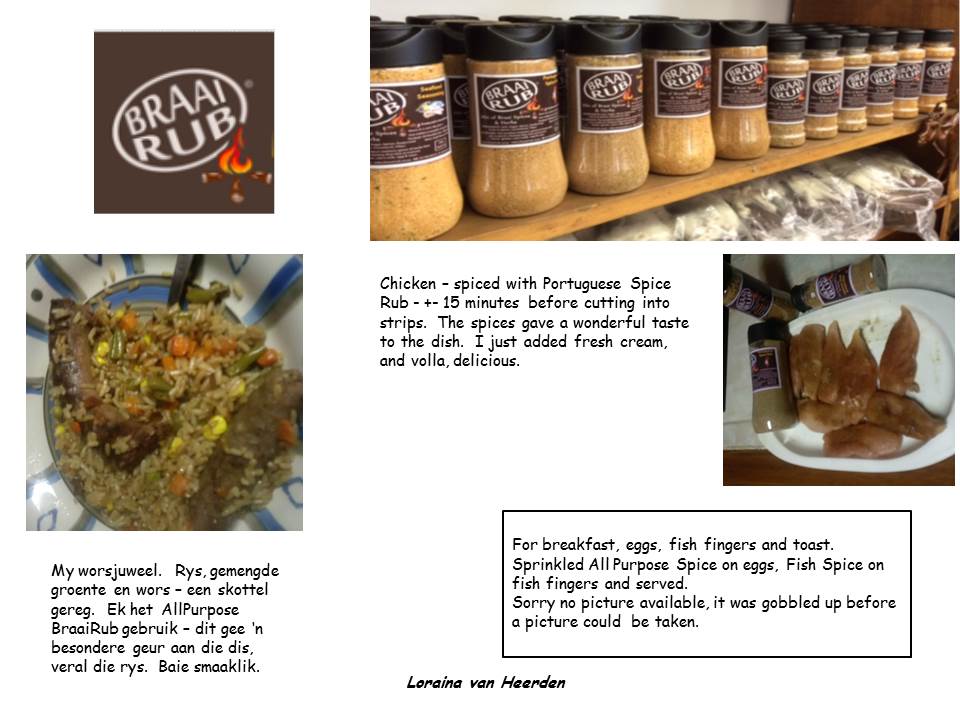 Baie dankie. Die produkte is iets besonders, en ek sal dit defnitief voorstel aan familie en vriende.
DELIcious Meats
Andrea - DELIcious Meats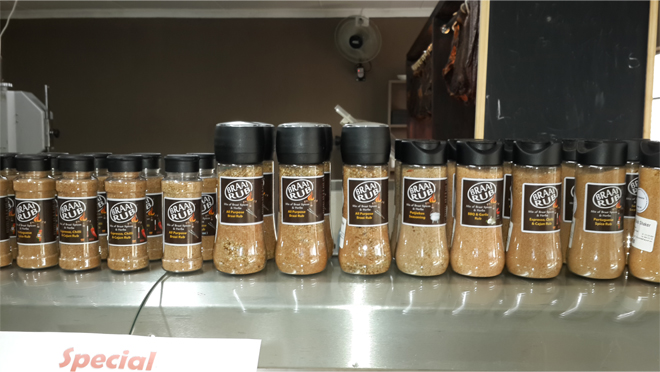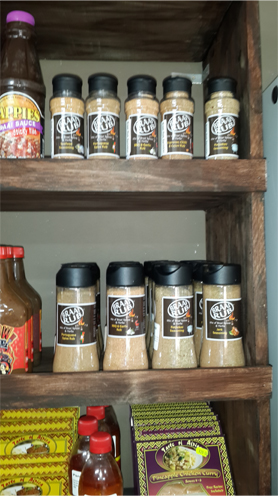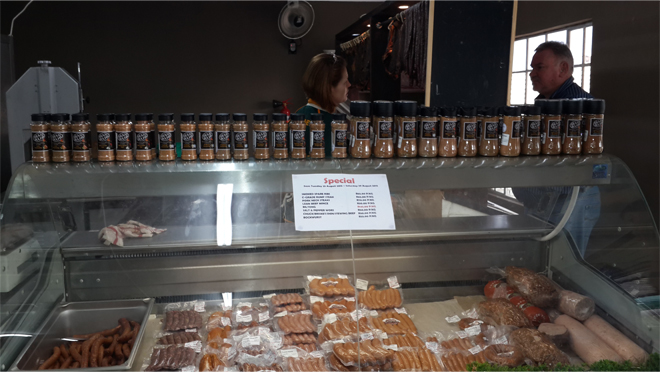 Hugo's Braai Rub has attracted the attention of many customers as soon as we unpacked them. We had them on our shelves for almost a week and half of it is already sold! Customers who sample the spices end up buying a bottle of each. Packaging is very nice. Quality of these products is very good. We will probably be placing an order again very soon!
Andrea
DELIcious Meats
tell: 017 826 4184
email: deliciousmeats85@gmail.com
facebook: DELIciousMeats
Platberg Farmstall
Bianca Mitchell-Innes - Platberg Farmstall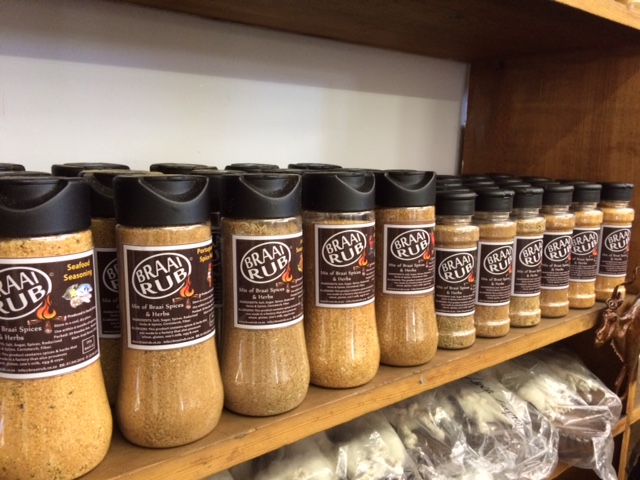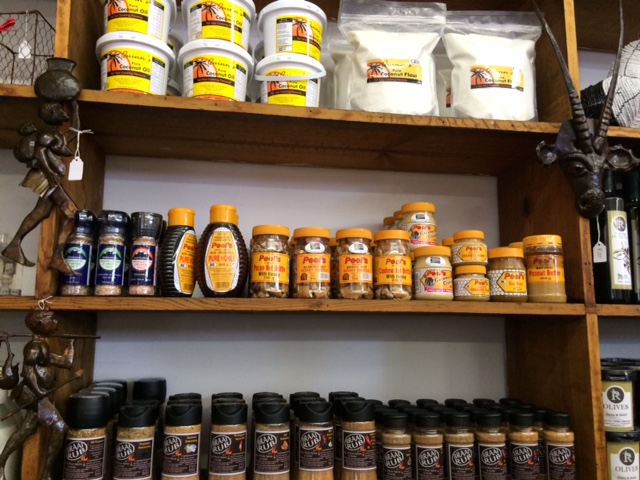 Braai Rub is a versatile spice range with some exciting flavours that awakens your taste buds. Whether it's chicken, beef or pork, Braai Rub is sure to add flavour to your next meal
Bianca Mitchell-Innes
Platberg Farmstall
cell: 072 798 1701
email: platbergfarmstall@gmail.com
facebook: platbergfarmstall
Upington Slaghuis - Naba Fees
Dalene - Upington Slaghuis
Goeie Middag Hugo
Ons het die Naba fees agter die rug en kan ons weer op slaghuis fokus. Die spesery het baie aandag gelok en is heelparty verkoop. Ek het self nog nie veel aandag hieraan kon gee maar hou jou op hoogte.
Baie indrukwekkende produk - mooi verpakking en baie geurig.
Ek laat verseker weer van my hoor.
Slaghuisgroete

Dalene
Upington Slaghuis
tel: 054 332 1781
email: dalene@uptslaghuis.co.za
web: www.uptslaghuis.co.za
MY braai rub
Stan Morris - Boma Braais & Steel Works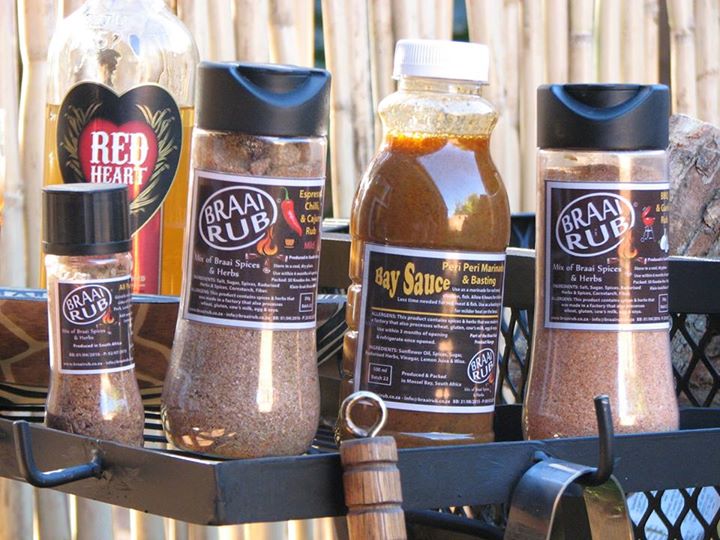 MY braai rub....awsum stuff. Thanks Hugo Botha
Stan Morris
Boma Braais & Steel Works
cell: 071 1969 829
email: bomabraais@vodamail.co.za
facebook: BomaBraaisandFireBaskets
The Road to the Ultimate Braai Experience
Dave Hendry - Botany Stainless Steel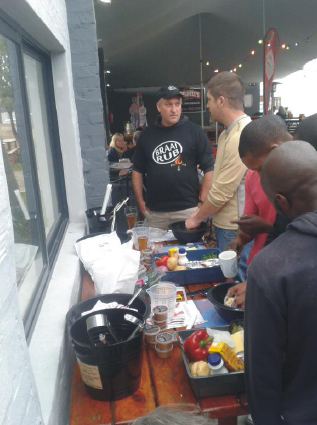 Just a sort note to say thank you for your sponsorship and for being a team in the opening event of the "Road To The Ultimate Braai Experience".
Your attendance was greatly appreciated and I hope the experience was enjoyed by the team.
Dave Hendry
Botany Appliances
Knysna
(044) 382 5851
(082) 566 0252
www.botany.co.za